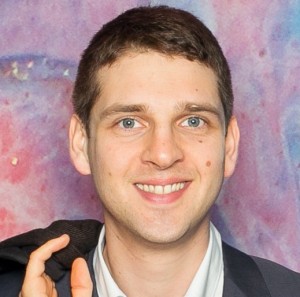 Miclaus Andrei
mail: KIT – Campus Süd – TECO, Vincenz-Prießnitz-Str. 1, 76131 Karlsruhe, Germany
University address: KIT – Campus Süd, Building 07.07, Vincenz-Prießnitz-Str. 1

Room 210

email: miclaus@teco.edu
fon: +49 (721) 608-417-07
fax: +49 (721) 608-417-02
Software enthusiast and PhD Candidate at the Karlsruhe Institute of Technology, chair for pervasive computing systems.
News
Interview with Prof. Michael Beigl and MSc. Andrei Miclaus,  Industry 4.0 Out of the Box: ScaleIT is featured in the Industry 4.0 Edition of the LookKIT Magazine
The ScaleIT research paper is now online! See below for the ACM Author-Izer link!
The ScaleIT website ist online and we will post an architecture white paper soon!
The first ScaleIT paper has been accepted and presented at the International Workshop on the Internet of Things 2016. The full paper is be available from my site via ACM Author-Izer link.
I was honored to take part in the Software Campus project from 2014, which is a research funding from the BMBF (Federal Ministry of Education and Research). The Software Campus is pursuing a dual strategy for the development of the IT managers of tomorrow: in parallel to the coaching by the industry partners it offers a project-oriented training of master's and doctoral students in the context of publicly funded research projects.
Research Interests
Internet of Things
Web of Things
Web Technology Proliferation
Model Driven Development
Information Processing
Software Development Enchancements
Microservices and DevOps
Projects
01/2016 – 12/2018: ScaleIT. Ziel des Forschungsprojekts ScaleIT ist die Entwicklung einer erweiterbaren technischen Plattform, über die Messwerte und Daten von Sensoren und intelligenten Werkzeugen bereitgestellt und mit den IT-Systemen vernetzt werden. Mit Softwarebausteinen (Apps) werden die Daten zu Informationen verlinkt. Die Anwendung intelligenter Werkzeuge, wie interaktive Dokumente, intelligente Werkstückträger und Prüfmittel, soll Prüfprozesse durch mehr Transparenz effizienter machen und alle Beteiligten bei Entscheidungen unterstützen.
01/2014 – 03/2015: Software Campus. A Document Generation Prototype for Reconfigurable Software funded by the Germany Ministry for Education and Research (BMBF).
The project tackles the problem of document generation in high variability intelligent industrial environments. The goal is to create a software prototype which can facilitate the dynamic generation of product documentation based not only on the current software configuration but also on the context at hand. At the core, it enables association, management and composition of documentation building blocks describing the software. The focus lies on natural language documentation that is used by end-users such as technicians and operators working with intelligent reconfigurable enterprise software. This topic is investigated in cooperation with Siemens AG Corporate Technology Vienna.
Short CV
10/2015 – now:  Scientific researcher and PhD candidate at TECO, KIT
04/2012 – 10/2015: Master of Science at the Karlsruhe Institute of Technology (KIT)
10/2011: Graduation with Bachelor of Computer Engineering from the Technical University of Cluj-Napoca, Romania
10/2007 – 10/2011: Computer Engineering Studies at the Technical University of Cluj-Napoca, Romania
10/2010 – 09/2011: Erasmus Exchange at the Karlsruhe Institute of Technology (KIT)
07/2010 – 10/2010: Mobile Web R&D Internship at the ETH Zurich Library
Publications
[mendeley type="groups" id="8c337d2b-91fd-3f04-9db0-60b09db9bea4″ filter="author=miclaus" sortby="year" sortorder="desc" groupby="year"]
ACM Author-Izer Links
Towards the Shop Floor App Ecosystem: Using the Semantic Web for Gluing Together Apps into Mashups
Always-On Web of Things Infrastructure using Dynamic Software Updating
Semantic Web Based Context-Adaptable Generation of Product Specific Documentation
IndianaJS: Building spatially aware web sites for the Web of Things
Activities
Lead software Architect in the ScaleIT BMBF project
Member of the microTEC Smart Systems Integration Group, Baden-Württemberg, Germany
Students
Fabian Pöhler, Bachelor Thesis, Cloud Deployment Concepts for Industrial IoT Devices, ongoing
Hossein Pazouki, Master Thesis, Optimizing Microservice Based Cloud Applications by Leveraging In-Memory Data Caches in Time Series Scenarios, ongoing
Christian Navolskyi, Bachelor Thesis, Benchmarking of Semantic Databases for Industrial Use Cases, ongoing
Matthias Schedel, Bachelor Thesis, Shop-Floor Linked Data Graph – Design Of A Linked Data Processing System Architecture For The Manufacturing Domain, ongoing
Nicolas Schreiber, Bachelor Thesis, Serverless Data Science Infrastructure (SDIS): A System Design for the Deployment of Machine Learning Functions, Nov. 2017
Dominik Kogel, Bachelor Thesis, Strategien für eine vernetzte Linearachse im Kontext von Industrie 4.0 (Strategies for a Connected Linear Axes in Context of the 4th Industrial Revolution), Nov. 2017
Karl Lorey, Programmiererpersönlichkeiten und die Nutzung von Sozialen Netzwerken durch Programmierer sind verknüpft: Verwendung von GitHub für bedeutsame Indikatoren (Programmers' Personality and the Usage of Social Networks are linked: Leveraging Github for Meaningful Markers), Sep. 2017
Tobias Röddiger, Bachelor Thesis, Gaze-Aware Notifications – Benefitting from Additional Context, Aug. 2017
Oleksandr Khomenko, Master Thesis, Designing a Case-Based Reasoning System for Supporting Line Employees during Troubleshooting Tasks, May – Nov. 2016
Christian Herlemann, Bachelor Thesis, IoT Protocol Benchmarking, Jun. – Nov. 2016
Tobias Sturm, Master Thesis, Sensor Data Analytics for Decision Support Systems on Ferry Vessels, Apr. – Sep. 2016
Nico Kuhn, Bachelor Thesis, Cloud Platform Evaluation and Comparison in an Internet of Things Scenario, KIT, Jan. – May 2016
Ferdinand Mütsch, Design of a Linked Data-enabled Microservice Platform for the Industrial Internet of Things, May – Oct. 2016, available at https://publikationen.bibliothek.kit.edu/1000061764
Open Theses
None for the moment. However, if you are interested in the Industrial IoT, Web of Things, Industry 4.0, Containerization, Web and Cloud technologies send me an e-mail.